'Tis the Season for Scams: Stay Alert for These 6 Schemes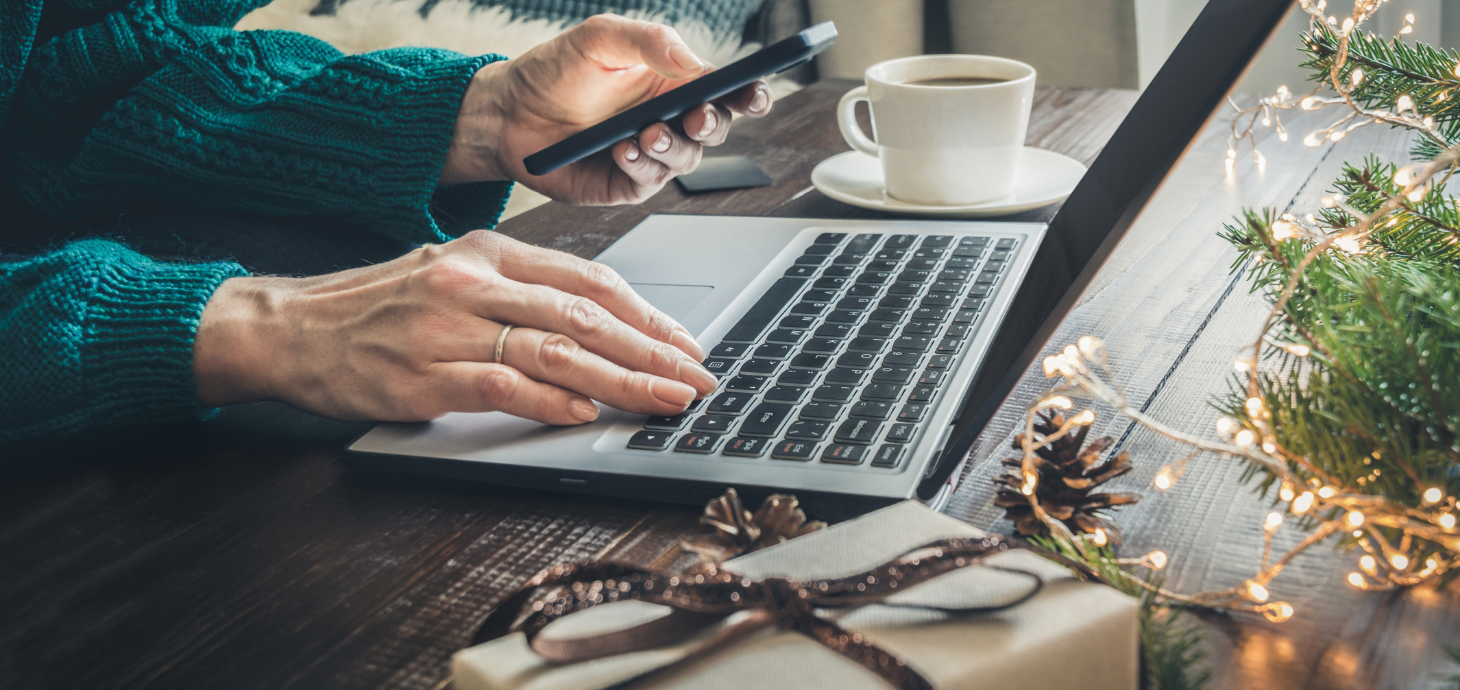 Unfortunately, this joyous time of year is rife with scams that attempt to take advantage of our holiday cheer. In fact, a 2020 Experian survey found that nearly a quarter of survey respondents (24%) were the victim of identity theft or fraud during the holidays. From new, festive schemes to variations on tried-and-true tactics, there are plenty of grinches hoping to catch you off guard. We are committed to keeping you alert of these trends as they arise. Here's what you need to know to for a happy holiday season.
Online shopping scams
Remember, if it seems too good to be true, it probably is. Extremely discounted products and limited-time deals could be the red flag of a scam. Fraudsters often create look-alike websites and promote them via emails and social media. This could lead to ordering something that never comes or purchasing counterfeit or stolen goods. If you're considering purchasing from a company for the first time, check reviews and do your research to ensure it is legitimate. Purchases should only be made on secure sites that include "https" in the URL. Be wary of buying items directly from individuals on sites like Facebook Marketplace, Craigslist, and NextDoor, where there are less protections in place to safeguard your purchase. If you do purchase from an individual and intend to meet in person to obtain the item, meet in a public place for your safety.
Package delivery scams
With the continued rise of online shopping, fraudsters are faking tracking and delivery alerts. These text messages, calls, or emails often look like they're from a legitimate mail or package courier and include a false tracking link. Once clicked, the link may ask for personal information or install malware on your device to steal your information. You may also be asked to pay additional fees for customs, shipping, or taxes. If you receive a message about an unexpected or unfamiliar shipment, proceed with caution. For packages you are expecting, refer to official communications from the retailer about your order.
Account compromise scams
In this tactic, scammers pose as bank or payment app employees informing you about suspicious activity in your account. To resolve the issue, they ask for you to provide personal information, perform a "test transfer" of funds, or they instruct you to download a "security" app on your phone or to your computer. These apps are malware that give the scammer access to your device and information. If you receive calls, emails, or texts like this, do not provide any information. Instead, reach out directly to your bank with questions and concerns.
Gift card scams
Avoid using gift cards as a payment method when shopping online. Once a scammer has the card details, there's no way to recover the money, which is why gift cards are a prevalent payment method for scams. Scammers have also been known to pose as real businesses and send phishing emails requesting personal information in exchange for free or discounted gift cards. If you receive one of these offers, don't click on any links, mark it as spam or junk, and delete it.
Charity scams
In addition to gift giving to friends and family, for many, the holidays are a time for charitable contributions, which means there are plenty of scammers attempting to gain your donation. If you are in the giving spirit, when possible, donate directly to reputable organizations through their website and use a credit card for payment. Avoid donating to unfamiliar charities and beware of high-pressure language and scare tactics.
Holiday job scams
This season is the busiest time of year for many retailers, which leads to an increase in hiring for holiday help. However, some of these job offers are dupes posted by scammers. Red flags for fake postings include not requiring an applicant to interview for the position, promising high wages for tasks like stuffing envelopes or answering phones, asking applicants to complete work before giving an official offer letter, and asking the applicant to pay for job supplies, application, or training fees.
Southern First BSA & Fraud Officer Carl Francios, warns, "The holidays can feel like a huge rush to many of us to get things done and cross things off our lists. Remember to stop and use some discretion in these common holiday scam situations or the Grinch may just steal your Christmas!"
New Security Enhancements for Southern First Clients
We are committed to giving our clients the tools you need to stay safe and encourage you to take advantage of these opportunities to monitor your account activity.

SecurLock Equip Mobile App - We are proud to partner with SecurLOCK Equip to bring our clients new security features for their debit card. Add your card to the app to control when, where, and how it is used, set up instant alerts, turn your card on and off at the tap of a button, and more. Click here to download the app from the Apple App Store or click here to download it from the Google Play Store.
Real-Time Alerts – Know exactly what's going on with your accounts in real-time by setting up customized text and email notifications for transactions, deposits, transfers, and more. Log into personal online banking or ask your banker today to set up real-time alerts.
If you have any questions or concerns, don't hesitate to reach out to your banker, and for more tips on avoiding scams, follow us on Facebook, Instagram, LinkedIn, and Twitter and sign up for our newsletter for our latest blog updates.
The content above contains links to third-party sites. Our privacy and security policies do not apply to sites not controlled by Southern First. Please refer to our External Link Policy for more information.