5 Pieces of Advice for Entrepreneurs from Successful Black Business Owners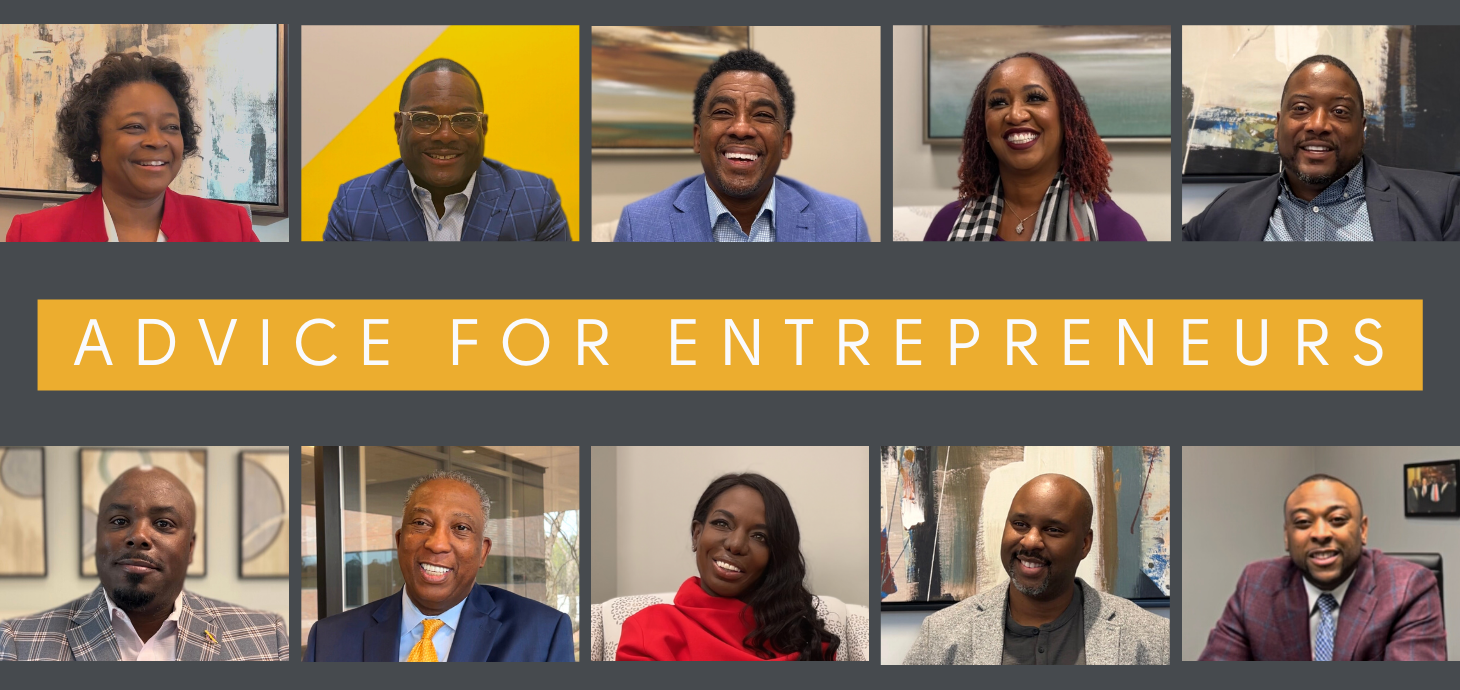 Over the past few weeks, we have had the privilege of sitting down with a number of Black business owners and Southern First clients to hear their perspectives on the importance of Black History Month, challenges they've faced in their careers, and what has helped them on their path to success. Read on to find out what advice they have for hopeful entrepreneurs and click here to watch our Black History Month video series to hear more from these impactful conversations.
1. Surround yourself with a strong support system.
The idea of starting your own business may sound like an independent and solitary activity, but it is important to remember that no one can do it alone. Every successful business requires partners and supporters to get off the ground, and this was a common point emphasized by all our interviewees.
Sherry Kubanyi, Attorney and Owner of Kubanyi Law Firm, says, "To be successful, you have to surround yourself with solid, supporting people who are constantly there for you… people that know your vision, and if they don't know it, they want to learn it."
"Make sure you get a good foundation of people who are going to help you succeed and who are going to help you propel your businesses to the next level. Don't be afraid to ask for help," adds Shaheena Bennett, Attorney and Owner of Bennett Law Firm and Associate Judge for the City of Moncks Corner.
In addition to business partners, James Scruggs, CEO of Kingdom Development Partners, explains that your support system starts at home. He says, "Putting your family first is critical as a business owner, and make sure that's your first priority. If your home is happy, your business is happy. Business itself is already stressful so having a healthy, happy home will help lead to having a successful business."
2. Find your passion and follow it.
The most successful entrepreneurs are passionate about what they do. Pastor Lance T. Johnson, Sr. of the Revelation of Christ Church believes everyone has a unique calling. He says, "Make sure you find out what that calling is. I believe that God always invests in what he puts inside of you. He deposits great things inside of us, and so often, people never make that withdrawal. You never really know if you're living until you begin to do what you truly have in your heart. Never give up on your dreams and tap into that deposit deep down inside of you. That's when you stop just existing and start really living."
Joesph Dickey, Attorney and Owner of Dickey Law Group and City Councilman for West Columbia District Four, shares emphatically, "My advice is to go for it. If there's something you want to do and strike out on your own, go for it. Be passionate about it. If you fail, you fail, but you learn from failing. Go for what you love to do. If you have a dream, you can't achieve it if you don't try."
3. As challenges arise, persevere.
Kubanyi shares a favorite Martin Luther King Jr. quote that has become an everyday mantra for her. The quote goes, "If you can't fly then run, if you can't run then walk, if you can't walk then crawl, but whatever you do, you have to keep moving forward."
Christopher Dennis, Owner and Founder of E-Fix Development Corp, shares that he's heard "No" many times in his career, but that didn't deter him. "It propelled me to fight and get that 'Yes.' Once you get that 'Yes,' you reflect on why you got that 'No,' and that comes back to building effective relationships. Once you get the 'Yes,' then it's an opportunity to grow and sustain the relationship," says Dennis. "If you knock on a few doors and don't get a positive response, keep looking," adds Bennett.
Scruggs shares, "You're not always able to get the most favorable financing because you're just starting out. Stay the course, and don't get frustrated. Before you go to the big banks, seek out relationships with community banks like Southern First. I think you'll get a lot more attention, and you can get business done."
4. Find the right banking partner.
Your business banker should be a partner committed to your success. They should understand your business and provide you with expert guidance and peace of mind that all your banking needs are being met.
Henry County Commissioner and Entrepreneur, Dee Clemmons, advises, "Find a good community bank that will allow you access to capital, that will know you by name, that will understand where you're trying to go, and that have resources to help you get there."
Ray Lattimore, CEO of Marketplace Professional Staffing, says, "Find a local bank that's going to meet your personal and business needs. Southern First has a program to match your every banking need, and that's what I love about Southern First. That and the client-first attitude that they bring to the table."
"Partnering with Southern First helps me sleep at night. Knowing that somebody cares about me as a person just as equally as they care about my business is invaluable…knowing that whatever I need, they're going to take care of. Whatever things I cannot see, pitfalls that may be on the horizon, they let me know. It's invaluable to have that relationship with your banker if you intend to have any level of success as an entrepreneur," says James Walker, Attorney at James Walker & Associates.
Pastor Jonathan Briggs of Truth & Fellowship Ministry explains that a great business banking relationship can not only provide financing but opportunities for growth. "We should never look at funding sources and financial institutions as a place we can just get money. There are so many different products, programs, and people who are excited about what we can offer to society. We should be looking at these financial institutions as a place where we can establish new relationships. I have grown so much by having a banking relationship with my partners at Southern First. If you're a business owner, entrepreneur, or just have an idea that you want to get off the ground, yes, it's going to take financial support, and sharp, expert minds can take you to higher heights. You ought to check out Southern First," says Briggs.
5. Reach back.
Finally, once you've become successful, do your part to help others reach their goals. "Keep nourishing and cultivating your mentor and mentee relationships. Reach back. As God continues to bless your business and you see another young entrepreneur, reach back to be able to be a mentor to them or a sounding board for them. Help them out any way you can," said James Scruggs.
We are proud to partner with and celebrate the success of these trusted clients. We hope their words of wisdom may help the next generation of entrepreneurs get their start. If you're thinking of starting a business or have existing business banking needs, it would be our privilege to serve you. Click here to find your Southern First banker.
The content above contains links to third-party sites. Our privacy and security policies do not apply to sites not controlled by Southern First. Please refer to our External Link Policy for more information.