Celebrating Fantastic Female Leaders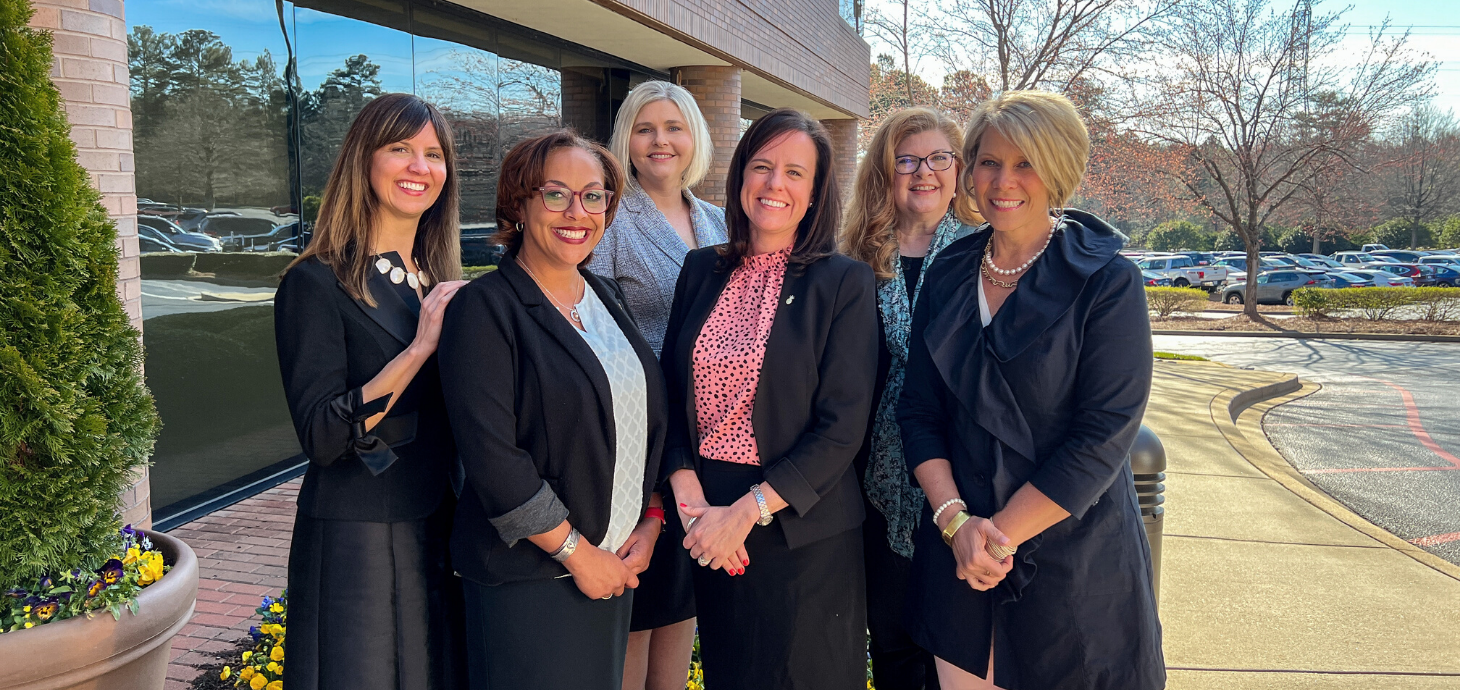 During Women's History Month, our nation reflects on the vital role of women in American history. While paying tribute to those achievements, this month is also an opportunity to look to the future and how we can propel women in every industry and walk of life even further. We are proud to take this time to celebrate the many incredible women that serve on the Southern First team. In fact, 64% of our total workforce is female, and just last year, we doubled the percentage of women on our Executive Leadership team. Read on to get to know some of our fantastic female leaders and what drives them.
Below you'll hear from Chief Human Resources Officer Silvia King, Director of Retail Operations Kim Macklanburg, Director of Client Support Crystal Hamby, Chief Compliance Officer Lora Jex, Director of Loan Operations Kendra Pfeiler, and EVP of Accounting and Finance Julie Fairchild (pictured from left to right). Though these six leaders' roles and responsibilities differ greatly, we found there were some common themes to their success and motivations.
When asked what they enjoyed most about their role, helping others succeed was a recurring topic.
Kendra Pfeiler says, "It's about empowering others to make a difference and contribute to the bank's success. I enjoy helping others be successful and breaking down walls that hinder opportunities or cause unnecessary work. I enjoy learning and solving challenges, but even more the sharing of knowledge with my teammates…helping a teammate start a path or solve a problem and achieve their own success."
"I thrive off the energy, innovation, and production that is created when people feel cared for, safe, and free to leverage their greatest strengths both professionally and personally. In my role, I have the privilege of seeing those magical moments. At Southern First, 'Enjoying the Journey' is what we call this experience," says Silvia King.
Lora Jex shares, "My role gives me the opportunity to work with every department in the bank. Though historically Compliance has been viewed as a role to identify that the bank is meeting numerous rules and regulations we're required to meet, the bigger piece of our role today is consultative – to provide guidance, answer questions, and assist other departments with the development of processes to meet the bank's strategic goals as well as the regulatory requirements."
Kim Macklanburg says the most rewarding part of her job is when others give kudos to one of her team members. She explains, "Seeing the growth of people in their current roles and when they reach new heights and success is what I enjoy most. I love helping to develop the team and watching someone grow both personally and professionally."
Crystal Hamby chose banking due to her upbringing and a desire to assist others in her community. "I saw my parents struggle with their finances with no one to help guide them in their life choices. I made it my goal to become that financial advisor not only to my parents but to others within my community that had similar circumstances. By doing so, I was able to help many families take control of their finances and achieve their dreams of becoming homeowners," adds Hamby.
As we continued the conversation, the notion of setting an example for others was an important motivating factor in why these women strive to achieve.
Julie Fairchild said, "I hope to be a positive influence and encouragement to those around me and to teach my kids to work hard and enjoy themselves along the way. I am thankful that I've been able to maintain a good work-life balance while raising a family, being active in their lives and schedules, and keeping up with my job responsibilities. It hasn't always been easy or looked the way I would have liked, but overall, I do not have any regrets."
"I am motivated by my family, and I am motivated to keep going every day because you never know who is watching you and depends on you to make the right moves. I need to do better and be better every day so that others behind me have more opportunities in the future," expressed Macklanburg.
King's goal is for her children to see that there is nothing perfect or easy about being a working mom, but there is fulfillment and joy in doing your best each day. She adds, "My goal is for my children to see my work self as a natural extension of the same mom they see at home, rather than two separate lives or personalities altogether."
"I love being able to coach and mentor the next generation of bankers. I was very fortunate to have someone willing to mentor and invest in me as a young banker, so I strive to pay that forward," said Hamby.
For all the future leaders out there, we also asked our leaders, "If you had the opportunity, what advice you would give your younger self?
Jex advises, "If you find yourself in a role or job where you're not happy, look for a better fit, sooner rather than later. It's okay to wait it out for a little while, but not too long. Life is short, and you spend most of your time at work – find a company with a culture that matches your values, and people you look forward to working with each day."
"Pick your battles. What's important to you now may not be important five to ten years from now, so is it worth fighting for?" asks Fairchild.
King tells her kids, "Enjoy the journey. Mistakes are good for you and help you grow up big and strong. Make them, learn, and move on."
"Don't sweat the small stuff. No one is perfect. Enjoy the journey and the friends you make along the way!" says Pfeiler.
"I would tell my younger self that success is not defined by how much money you make or what your title is but rather in lives that you impact along the way. Enjoy every season of your life," shares Hamby.
Macklanburg also adds an important reminder, "You are your first and best advocate! Be true to you. Stand up for yourself and be confident and bold. Go after every opportunity and do not take no for an answer."
We thank Silvia, Lora, Julie, Kim, Crystal, and Kendra for sharing their thoughts. We are so proud of all the ways they serve their clients, community, and our Southern First team. If you're interested in learning more about our career opportunities, click here to get started.