Get to Know Our Markets: Greensboro, NC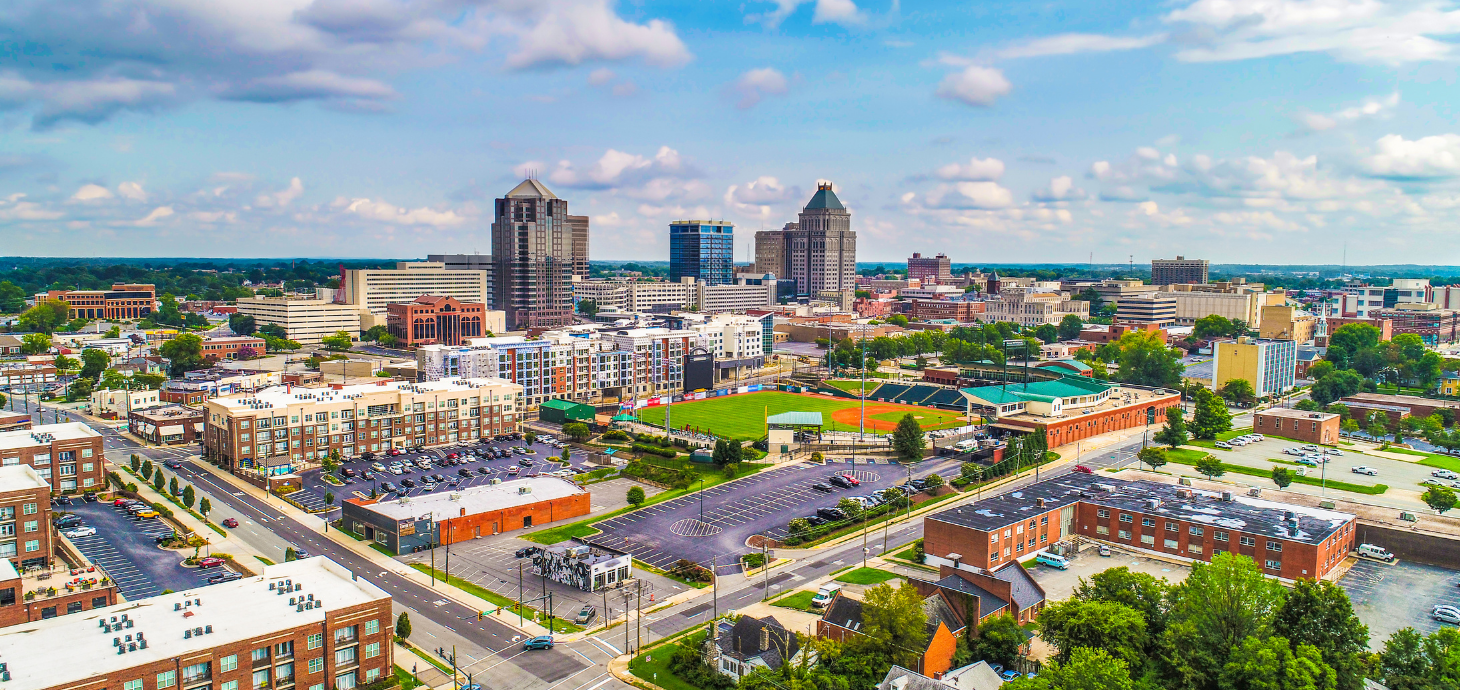 Southern First is proud to serve eight markets in the Southeast – Greenville, Columbia, Summerville and Charleston in South Carolina, Charlotte, Greensboro and Raleigh in North Carolina, and Atlanta, Georgia. These high-growth areas each offer unique lifestyles and amenities, and we are happy to introduce them to you. Read on to learn more about Greensboro and the Piedmont Triad region.
Overview
The Piedmont Triad is located in the central region of North Carolina and is anchored by the closely grouped cities of Greensboro, Winston-Salem, and High Point. Altogether, the region has a population of over 1.6 million and is one of the Southeast's primary manufacturing and transportation hubs while maintaining suburban Southern charm. We are proud to serve the Triad from our Greensboro office. Greensboro is sometimes known by a few other names: "Gate City" due to its start as a railroad transportation center, "Jeansboro" as a nod to its leadership in textiles, and "Tournament Town" for its wealth of athletic venues and since it serves as a home to the Atlantic Coast Conference.
Though the Triad area remains a center for textile, tobacco, and furniture corporations, in recent years, there's been tremendous growth in science and technology due to the Wake Forest Innovation Quarter in downtown Winston-Salem, as well as Greensboro's Gateway Research Park, supporting scientific and information technology research projects. Greensboro has also grown into a major distribution hub. It hosts a FedEx Air Cargo Hub and Honda Aircraft Company's World Headquarters. Additionally, Toyota recently selected Greensboro as the home for its U.S. Automotive EV Battery Plant, and Boom Supersonic will break ground on their first Supersonic Airliner Manufacturing Facility at the Greensboro airport later this year.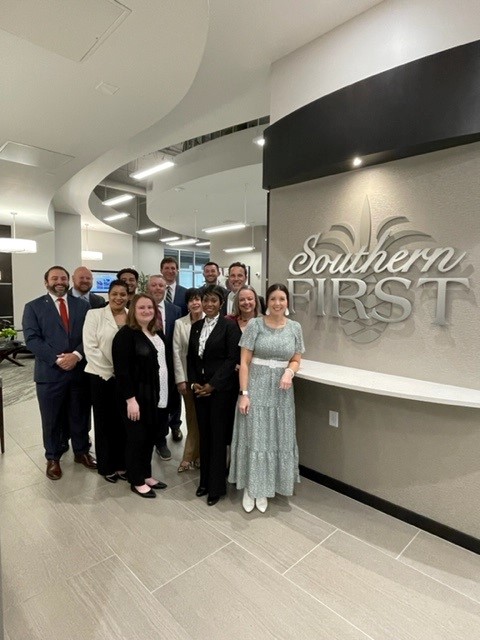 Our Greensboro Office
Located in downtown Greensboro at the primary intersection of Elm and Market Streets, our Triad office opened in April 2018 with a team of just three – Melissa Beane, Justin Combs and Joe DePasquale - and has since grown to thirteen team members. While the office is located in Greensboro, our team serves clients throughout the Triad area. The Southern First model of "One Client at a Time" has been well received and has allowed the Greensboro team to continue to grow with plans of hiring additional team members to support the increasing client base.
Our Team's Recommendations
To get to know our Triad team a little better, we asked them to tell us their favorite things to do in the area.
Natasha Thompson can be found at the Tanger Family Bicentennial Garden admiring the beautiful flowers or taking a walk on a nice day. She also enjoys heading to the downtown parks during the warmer months to have lunch at one of the amazing food trucks. Natasha shares, "One of my favorite new spots is Bourbon Bowl. It's the perfect place to have dinner and do some bowling. Plus, the outside patio is beautiful at night."
Grant Cook looks forward to every holiday season in Greensboro. He says, "One of our local neighborhoods near downtown called Sunset Hills puts hanging lighted balls in their trees. Almost every house in the neighborhood participates, and it has become quite the spectacle and definitely a tradition over the years. They bring hundreds of visitors, and every year they put on a 5K called the "Running of the Balls" that my family and I like to participate in." During nicer weather, Grant's favorite thing to do is play golf at Starmount Forest Country Club. He says the relationships he has formed there along with other amenities make it a fun place to spend free time. If you're looking for a place to eat, Grant's favorite in Greensboro is Vietnamese restaurant, Pho Hien Vuong. Grant adds, "Their simmered Swai filet tastes great and the flavors they incorporate are amazing."
Irene Kyere enjoys visiting the Greensboro Science Center, a science museum and zoological park established in 1957, as well as the farmer's market in High Point, which has a wide variety of high-quality fresh food, handmade goods, and family activities. On Fridays, you may find Irene at Steak Street in High Point for their filet, chicken, diverse wine list, and Friday night live music.
Joe Aldridge loves Winston-Salem's selection of restaurants and breweries. A few of Joe's favorites are Fiddlin' Fish Brewing Co. and Incendiary Brewery. Incendiary is located in the old Bailey Power Plant and has a great outdoor area for his kids to play. Plus, next door is Cugino Forno, which serves authentic Italian wood fired pizza. He and his family also enjoy grabbing dinner and drinks at Camel City BBQ, where the kids love to play the arcade games. On a pretty day, you can find Joe and his family enjoying a picnic at Bailey Park and grabbing some ice cream from the Lil Dipper.
Matt Cromer, who lives in and covers the High Point market for Southern First, shares that High Point is known as the "Furniture Capital of the World" and hosts the International Home Furnishings market twice a year. He enjoys attending the High Point Rockers baseball games. The Rockers are a professional baseball team in the Atlantic League. He and his family also like to meet friends at Brown Truck Brewery and grab dinner next door at Sweet Ole Bills.
Melissa Beane recommends the Greensboro Science Center, North Carolina Zoo in Asheboro (just 30 minutes south of Greensboro), and the Guilford National Military Park to anyone coming to visit the area. The military park is a Revolutionary War battlefield that commemorates the Battle of Guilford Court House between General Nathaneal Greene's militia and Charles Cornwallis' Army. It is a great place to walk and learn about the American Revolution. Her favorite restaurant is The Village Tavern, and she adds that Old Salem has a fabulous bakery with her favorite Moravian sugar cakes.
Christopher Chenery lives in Winston-Salem, a wonderful town with a rich history, where there's plenty to do for young and old alike. For family friendly activities, he recommends exploring the Old Salem Museum and Gardens with its 18th century architecture and staff that dresses and works as the original Moravian settlers did. Moving forward in the city's history, Reynolda House provides insights into the formative years of Winston with the Reynolds family and subsequently Wake Forest University. In addition to guided tours through the historic estate, Reynolda House offers an art museum indoors with elaborate gardens, a greenhouse, and walking trails outside. For evening activities, Christopher's favorite dinner spot is The Porch Kitchen & Cantina, which serves fresh Tex-Mex creations. After supper, he and his family enjoy heading down to Wise Man Brewing for some local beers followed by a quick walk across the parking lot to hear some live music at The Ramkat, an intimate venue that stages an eclectic variety of acts.
Our Triad team is proud to serve their community and would love to be your banker. Click here to get to know them and learn more.