Making the Switch: Why Three FinTech Leaders Moved to Southern First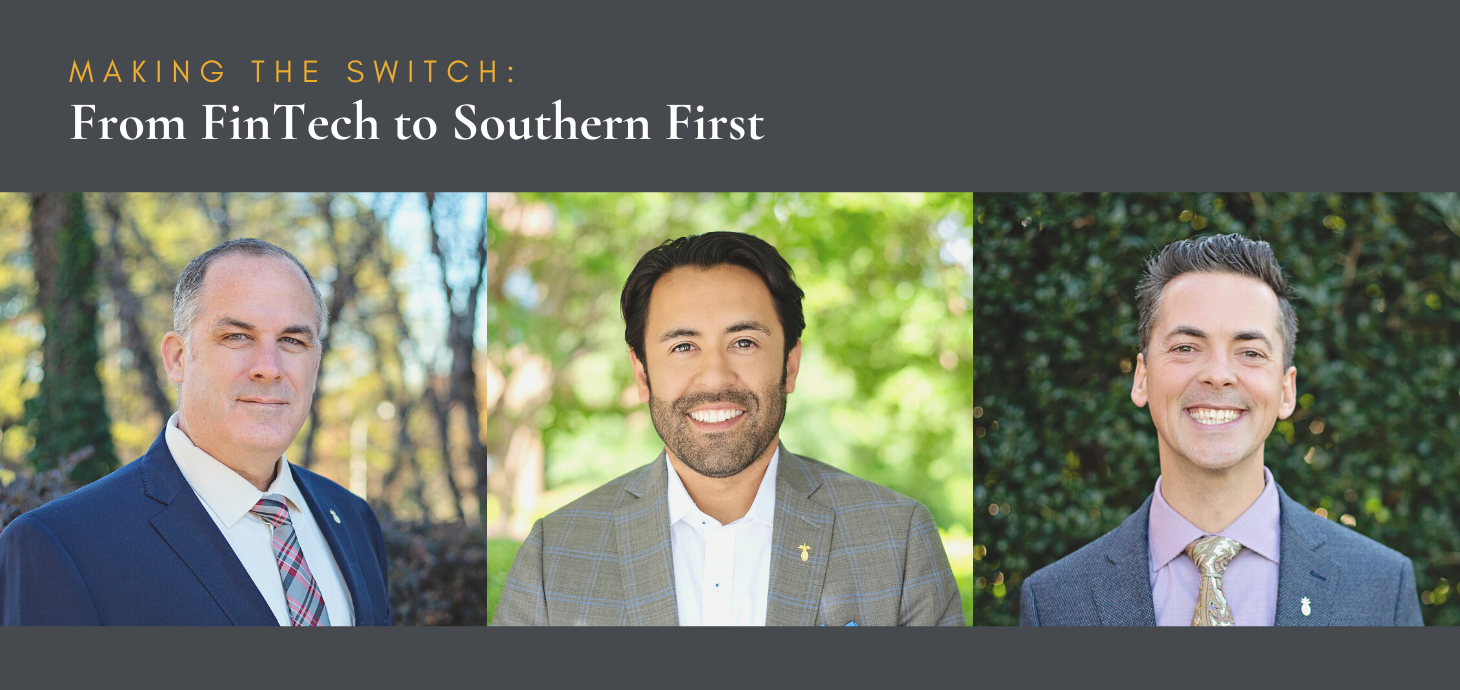 At Southern First, we are committed to creating incredible client experiences. We put relationships first and build and invest in technology that extends that same approach to online and mobile banking. As part of that commitment, we are excited to have three new faces on board to help shape the future of our client services – Chief Innovation Officer Dave Favela, Director of Information Technology Phillip Siebels, and Director of Architecture and Development Jordan Sztanyo. What brings three leaders from the financial technology space in California across the country to join a growing bank in the Southeast? It is a unique story that we are proud to share with you.
Shaping Product Priorities through Understanding Clients

When you ask Dave, Phillip, and Jordan what attracted them to Southern First, their answer isn't too different from if you asked anyone else at the company – it's about people. From our bankers who are directly interacting with clients every day to our support staff serving behind the scenes, our mission of Impacting Lives resonates throughout our entire team.
These three have shared a similar career path. They have worked at FinTech startups and at a core technology provider for financial institutions. Most of their careers have been spent building products for banks, but this is their first time on the inside of one - and that's exactly what they are most excited about.
Favela explains, "It's a different mentality. In technology companies it can be easy to get caught up in the cool factor of what you are building, losing sight of its intended use. On the front lines with clients, things quickly become pragmatic. What is this actually doing to help others? Instead of prioritizing what's best for selling the product, we can focus on what's best for the people using it."
Sztanyo says, "I like being able to see the impact. What are pain points that team members and clients have, and how can we alleviate them? It's very rewarding and exciting to take on use cases that will save people time and help our associates enjoy their tech experience at work."
According to Siebels, though people call him a technologist, he is really a people person. He says, "I love relationships and I love people, and technology can be used to enhance the overall relationship. I think that's what drew me to Southern First. It's this interesting challenge of knowing we need to adapt and adopt new technologies, but how do we do that in a way that doesn't sacrifice the relationships?"
"The relationship banking model was a big draw for me because that can lead to more connected satisfying experiences, and such experiences are what people are after in all parts of life," concludes Favela.

Fostering a Culture that is Open to Change
For many organizations our size, our age, and in our industry, introducing innovation can be difficult, but it is something Southern First embraces. Sztanyo explains, "What we're doing feels like a startup in many ways. We're able to define a trajectory for our group and to build something within that wasn't already established. Because things are new and need to be defined, there's a great challenge in that and a lot of room to grow."
Favela says, "We serve in a culture that is excited and open to change. It's a chance to build amongst a team that is rowing in the same direction, and that's really fueled the culture here. It's bigger than one individual. You feel the buy-in from different teams. Authentically, people are in it, and they are in it for others, so it makes it very motivating to want to build products that encourage and support that."

Committing to Organic Growth
That openness to change goes hand-in-hand with our commitment to organic growth. We have grown one client and one relationship at a time for over 20 years, and with the support of these leaders, our technology division will encourage growth from within the bank.
"Associates who have been in their role for years have rethought how their work could be done better, but while the idea may have been there, the challenge was, who can get that done? We are growing the team with new talent to dream bigger and execute what's best for the bank as we scale. We can enable innovative ideas that already exist within the organization. Much of the innovation is going to come from our associates," says Favela.
Siebels says, "This is one of the things I get excited about. In talking about innovation coming from within, when our teammates believe they are contributing to the innovation and we are just the facilitators, there is an opportunity to have innovation leaders throughout the bank – a teller serving on a line, for example, has an idea to make a change to a button on our mobile app based on customer needs. It is an opportunity to have hundreds of eyes looking at things, instead of just the three of us."
Favela adds, "We have a group of people that are willing to step forward and participate, and we have leaders here that are humble and eager to serve and want to elevate and celebrate others. Having industry leaders working inside Southern First allows us to mentor and train from within to build muscle in new strategic development areas."
We are excited that Dave, Phillip, and Jordan are settling in well here at Southern First. They are already making an impact, and we can't wait to see what's to come in 2022 and beyond.
But before we let them off the hook, we had to ask our final, burning question, "What has been your biggest takeaway from moving to the South?"
To our amusement, the access to delicious BBQ and fireworks were top of mind for Favela, as well as the overall change in pace. He said, "There's not a rush to conversations. People are interested, engaged, and intentional."
Sztanyo is also eating BBQ and trading old comfort foods for new ones. He and his family have enjoyed exploring the area, discovering the unique identity of each town and city, and attending local events and community activities.
The hospitality and willingness to spend time with others have been takeaways for Siebels, which brings us full circle. After all, the pineapple is one of the ultimate signs of Southern hospitality.